Why The Big John Show?
The Answer Is In The Show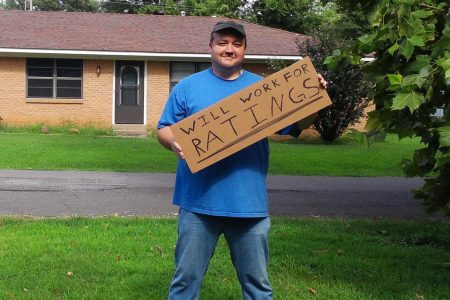 With 18 years of radio broadcasting experience, Big John is still passionate about the industry he loves. That's why he does his show online weekdays 10am to 2pm central time while working with other local terrestrial stations.
Starting in 2002, he quickly learned that he had a knack for talking behind a microphone. That habit has evolved, which earned him high ratings in several markets he's worked in.
With hundreds of public events and a decade of doing the thing he loves, he created the TBJS Radio Network in 2011 in order to reach the listeners who wanted to continue hearing him, even when he wasn't on Terrestrial radio at that time.
The goal is to match the highly-qualified syndicated broadcasters who are signed with corporate companies. In addition to everything you'd expect radio DJ's to do, The Big John Show invites Partners (members who subscribe monthly) to have input on the show's direction. In return, they have accesses to features and services we provide.
Alongside of that, Big John also writes blog posts, utilizes various social media, websites (TBJS Radio Network and Pornaudiography) takes calls, shout-outs, and texts on the air, and is not afraid to discuss news worthy topics not talked about in the media, as well as artists information. The Big John Show really is your one-stop shop for all your radio show needs.
"Big John" Horton has 18 years' experience in the industry and have worked for everything from mom and pop stations to corporate giants such as Clear Channel (iHeart) and Cumulus Media. Big John had a small taste of syndication in Dallas, TX while working at a small station in southern Oklahoma. Many syndicated shows have experienced large and major markets, but we're not giving up and are determined to help the local, smaller markets while aiming for the major markets on the nationwide scale, giving your station something different when it comes to getting a leg up in your competition. You will be getting the same show across the board, small or large market.
Our show's transmission method isn't really different from a lot of other nationally syndicated shows. Some competing shows are pre-recorded sometimes days in advance and their segments are repeated in the same time-slot. We are going to give you full shows (four hours worth) with local breaks available every hour. You want 12 minutes of every hour? You got it!
When it comes to content, our listeners are just like your listeners. We target a wide range, 18-54, because of the music we play fits that diverse age group. The music we play includes Red Dirt, Texas Country, Outlaws, and Independents along with a mix of Traditional sounding country from Nashville.
If you are tired of the political theater, celebrity whozie whatzits stunts for attention, and just want to hear about real things happening, then we are your kind of show. We discuss topics listeners find interesting and want to pay attention to, but we do like to share information including big current events, breaking news, and serious situations as they develop during our time.
Customer Service Guarantee
We're so certain that you'll love your content and marketing materials, we guarantee them. Because everyone's artistic vision is different, we do invite you submit your input, but if you're not happy after that, you don't have to continue with our business.
How strongly do we believe in that guarantee? Enough to only ask for one rating period. We prefer at least two, but we'll start with one if it gets you to give us a chance. You won't be disappointed!
Additional Services Offered
Station Promo's & Production (via ftp)

Posts On Station's Social Media

Website Links & Affiliate Promotion

LIVE feed and Replay (10pm-2am central)

Direct 24/7 Access

The Big John Show News Minute Feature
Questions or comments? Let us know!